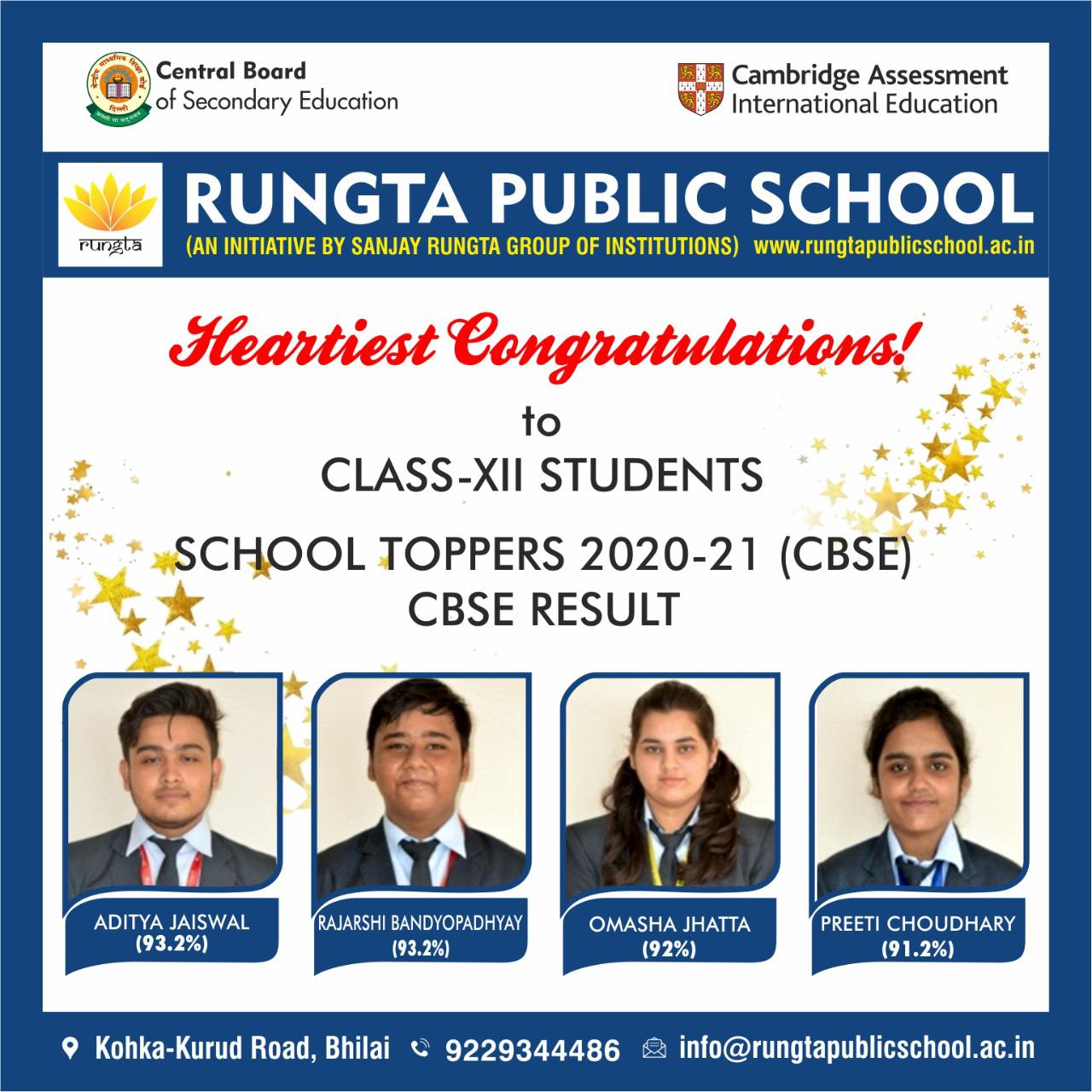 Rungta Public School shines in Class-XII (AISSCE) CBSE Board Result
It was an exceptionally happy day for all the stake holders of Rungta Public School that runs under the flagship of Sanjay Rungta Group of Institutions, as the school has recorded a 100% pass rate with all first division in the class XII AISSCE examination, conducted by CBSE, the results of which were declared on Friday, 30th July 2021.
As the pen-paper exams were cancelled this year in view of the 2nd wave of COVID-19, the results were announced on the basis of an alternate assessment policy by the board.
Aditya Jaiswal and Rajarshi Bandyopadhyay topped the batch scoring 93.2% in commerce. Omasha Jhatta and Preeti Choudhary topped the batch with 92% and 91.2% respectively in science stream.
Congratulating the students on their stellar performance, the Chairman of SRGI, Shri Sanjay Rungta remarked "My sincerest and heartfelt compliments to the children who came out glorious despite the lockdown and crisis precipitated by Covid". Mr. Saket Rungta, Director, appreciated the efforts of the teachers who worked tirelessly to overcome hindrances, and ensured that the students reciprocate their efforts to make them forge ahead of adversity. The Director. He has also extended his heartfelt congratulations to the entire team of RPS.
The CEO of the institution, Mr. Arup Mukhopadhyay conveyed his blessings to all the students and wished them all very bright future. He said "They have made the state and region proud by their excellent result. It's a sign of team effort". As an institution, we are delighted by the performance of our students, and fall short of words to convey our accolades.