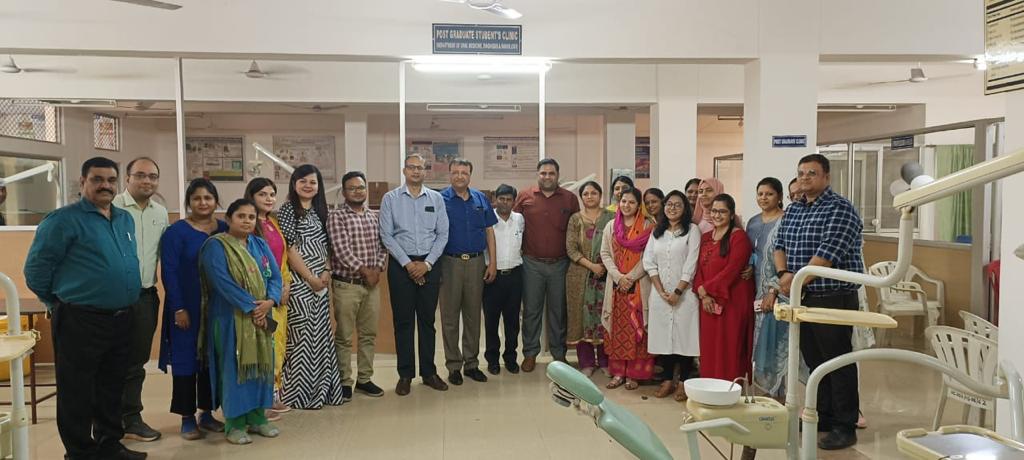 National Oral and Maxillofacial Radiology Day at RCDSR
The Department of Oral Medicine and Radiology, Rungta College of Dental Sciences and Research, Bhilai, Chhattisgarh under the aegis of Sanjay Rungta Group of Institutions (SRGI) celebrated National Oral and Maxillofacial Radiology Day on 8th November 2022 to pay tribute to Sir Wilhelm Roentgen, who discovered X-Ray on 8th Nov 1895. Radiology Day is celebrated as an anniversary to spread awareness of the importance of Radiology in diagnosis, treatment and prognosis in health care systems.
The Department organised a "radiographic diagnosis" competition and a "pencil sketch" competition of the Father of Radiology for undergraduates and postgraduate students. There were free screening radiographs for the patients on the day. Chairman of the SRGI, Shree Sanjay Rungta sir graced the occasion. Dean Dr. Karthik Krishna M. along with Vice-Dean Dr. Deepak Thakur, HODs and Faculty of other Departments witnessed the event. Postgraduate students and undergraduate students took active participation in the competitions. The Department HOD Dr. Ganapathi Moger briefed about the significance of the occasion and Dr. Fatima Khan heartily welcomed the faculty and students. The program was coordinated by
Dr. N.Priyadarshree, Sr. Lecturer. Dr. Tejashree Pundge, Dr. Ramesh Peditham, Dr. Khushbu Jain and Dr. Ankit Sharma. Certificates and prizes distributed to the winners of competitions were given by Chairman (SRGI) Sanjay Rungta.
The winners of the competitions were:
In pencil sketch competition: 1st prize winner was Dr.Saikat Mondal, 2nd prize winner was Dr.Medh Bharti, 3rd prize winner was Dr.Rishika Rani and consolation prize goes to Dr.Vaishnavi Sharma and Dr.Simran Cruz.
In radiographic spot diagnosis-undergraduate competition: 1st winner was Dr. Baishali Agrawal, 2nd prize winners were Dr. Vani Thakur and Dr. Shambhavi Agrawal.
In radiographic spot diagnosis- postgraduate competition: 1st prize winner was Dr. Ankit Dupare and 2nd prize winner was Dr. Dhamma Gadpal.