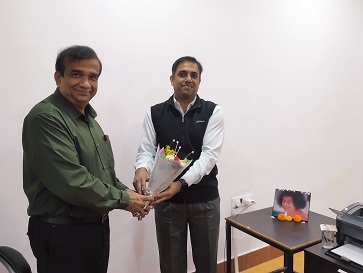 Expert session on 'Management Practices in Post Covid Era' held at Sanjay Rungta Group of Institutions
An expert session by Dr. T. Sai Vijay, Asst. Professor, Indian Institute of Management, Ranchi Jharkhand was organized by the Department of Management, RSR Rungta College of Engineering & Technology under the aegis of Sanjay Rungta Group of Institutions (SRGI), Rungta Knowledge City, Bhilai
Dr. T. Rama Rao, Director Academics, SRGI in his welcome address urged the students to unlearn, learn and relearn management practices and change is imminent to compete in the global market on all fronts. He also stressed for new ways of doing business, ease of doing business and certain practices like WFH etc have given way due to Covid.
Dr. Anjaneya Sharma, Professor and Head, Department of Management highlighted the importance of understanding the Post-Covid Era two-fold as having Pros and Cons, which has taught people to lead a life meaningfully and lovingly with a concern for fellow human beings.
Dr. T. Sai Vijay presented the management practices in the pre and post covid era that the government was contemplating certain changes at the apex level but the pandemic had compelled the need for bringing in Digitalisation right from the grassroots to every business at the apex level. High dependence and use of technology on all fronts like the ICT have made organisations stand distinctively in the market due to the pandemic. Certain practices in the areas of Marketing, Human Resources, Financial Management and Entrepreneurship were vividly explained and presented. The students and faculty members actively participated in this session. The students expressed their happiness and expressed that the session was highly informative and comprehensive. On this occasion Principals, Deans, HODs and Faculty members were also present. A vote of thanks was proposed by Dr. Anjaneya Sharma towards the end.
SRGI's top management comprising Shri. Sanjay Rungta, Chairman, SRGI, Shri. Saket Rungta, Director, have stressed the need for sincere efforts to be put in by students as learners of management in order to excel in their endeavours in the Post-Covid era.