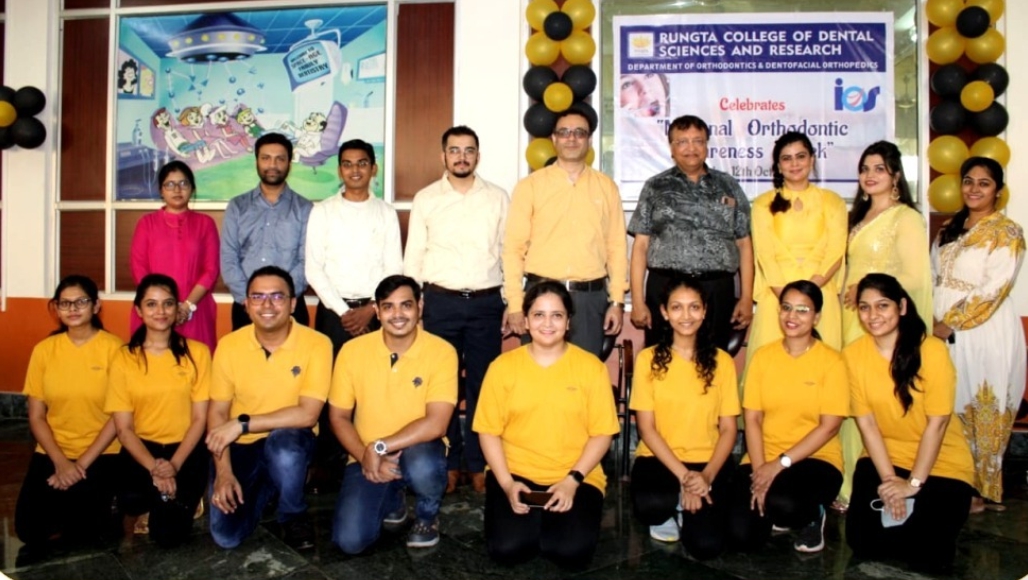 CELEBRATION OF "NATIONAL ORTHODONTICS AWARENESS WEEK" AT RUNGTA DENTAL COLLEGE
Rungta College of Dental Sciences & Research under the aegis Sanjay Rungta Group of Institution celebrated National Orthodontic Awareness Week on the occasion of 56th Foundation day of Indian Orthodontic Society. The Orthodontic branch of dentistry deals with correction of teeth problems like spacing, irregular or forwardly placed teeth in children as well as adults. These problems can be corrected by placing braces on the teeth. Also, newer advances like clear aligners or invisible braces are employed in treating these patients.
To commemorate this 56th Foundation Day, Dr. Sumit Gandhi, HOD- Orthodontics informed that the department organized free check –ups and consultations for patients seeking orthodontic treatment from 5th to 12 the October. Also, many awareness campaigns were conducted by the doctors and students of RCDSR to encourage and motivate people to improve their smile and oral function in this week.
The chairman of Sanjay Rungta Group of Institutions Shri Sanjay Rungta inaugurated this event and shared that our institute is always a front runner in social services and creating awareness among the society. The Dean of the institute, Dr. Karthik Krishna M has conveyed his best wishes for successful organization of the program.
The programme was meticulously planned and successfully conducted by Department of Orthodontics and Dentofacial Orthopaedics under the guidance of staff, Prof. & HOD Dr. Sumit Gandhi, Prof. Dr. Javed Sodawala, Reader Dr. Shaheen Hamdani, Sr. Lecturers, Dr. Harsha Malhotra & Dr. Gaurav Agrawal . Post graduate students interns and undergraduate students actively participated in the Creative wire bending and E poster presentation competitions held for the occasion. The winners of E poster competition were 1st Prize Ishani Rahate (Intern), 2nd Prize Muskan Choudhari (Intern), 3rd Prize Bhaishali (Final yr), Consolation prize Kanu Pandey (Second yr), Reshma Pillai (Intern) and winners of creative wire bending were 1st Prize Ambreen Arfa (Intern), 2nd Prize Bhanvi Jagatramka (Final year), 3rd Prize Diksha Naik (First year), Consolation Prize Banhi chakraborty (Intern), Ishpreet Kaur (Intern) and Aanchal Shahu(1st yr).
The Orthodontic department aimed to provide awareness amongst patients who require orthodontic treatment and the national orthodontic awareness week dispensed a good opportunity for the patients to get free consultation and awareness for orthodontic treatment.