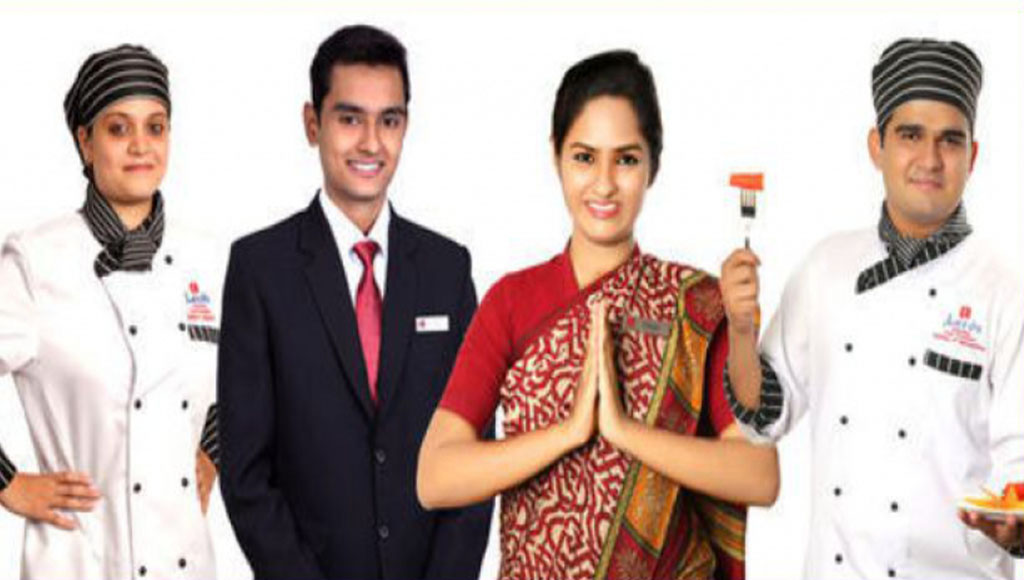 CAREER IN HOTEL MANAGEMENT
Hotel Management is a brilliant part of educational & professional courses that covers a large range of topics alarmed with the functional characteristics of hoteliers. Enlightening Theoretical as well as practical education courses in hotel management are wide-ranging and cover topics as extensive as marketing, eco-tourism, leisure, business management, and administration. Hotel management is an area of business proficiency that includes: – food and brew management, housekeeping, tourism supervision, accounting and investment, and food production.
Top 10 hospitality companies in India
Hyatt Hotels Corporation.
InterContinental Hotels Group.
Marriott International India Pvt Ltd.
Radisson Blu Hotels.
Shangri La Hotels & Resorts.
Taj Hotels, Resorts & Palaces.
Lalit Hotels.
The Leela Palace.
The Oberoi Group
The Park Hotels
Job Profiles
In the Hospitality industry aspirants have a superfluity of job profiles as well as opportunities that would be unbolted to them. Thus, candidates can genuinely be a part of hotels, travel agencies, airlines, and analogous fields after fruitfully completing a course in Hotel Management. Some job profiles that candidates can choose to pursue in this field are as listed below:
Hotel Manager:Individuals working in this kind of job profile are in charge of the overall functionalities of a hotel. A hotel manager is accountable for maintaining the customer service offered at the hotel and also ensures that all facilities are presented to guests. A hotel manager supervises the working of the housekeeping sector, ensures that superior quality food is offered to guests, and is also concerned with the working of the dinner department. He/ she is responsible for escalating the revenue earned by the hotel.
Food and Beverage Manager:Professionals in this profession choice need to prepare, organize, and supervise the work of the food preparation department. People in this profile are generally entrusted with the job of interacting with guests and ensuring that the needs/ demands of customers are pleased.
Front Office Manager:In this profile, an individual is given the responsibility to manage & administer the work of clerks, receptionists, information clerks, doorman, and the bell boy. Managers at this position are also accountable for ensuring that accommodations offered to guests meet their necessities. A person who works as a front office manager has many tasks to do and one of them is that he/she also needs to synchronize between the housekeeping section as well as the food and beverage division from time to time to make sure that requests are made by guests are satisfied on time.
Restaurant and Food Service Manager:Individuals working in this profile are conscientious for taking stock of crockery, cleaning supplies, linens, term paper, cooking utensils as well as furniture and fixtures of the hotel's bistro areas. They are also the people in charge of arranging paraphernalia maintenance and repairs.
Housekeeping Manager:Individuals working on this occupation are answerable for ensuring that the intact hotel premises, right from the visitor rooms, banquet halls, conference rooms as well as reception area, is dirt-free and well maintained. A housekeeping manager is accountable for making rosters, training staff, and supervising the effort of housekeepers, cleaners, and seamstresses. The housekeeping Manager is also tasked with the post of ordering cleaning supplies in an opportune manner.
Chef:They are in charge of preparing meals, guiding kitchen staff, ordering supplies, planning menus, organizing the kitchen budget, enforcing wellbeing and safety regulations, and preserving food superiority. Chefs are typically the first people to reach for work and the last ones to depart.
Steward/ Stewardess:Individuals working in this job profile are liable for ensuring that crockery is laid out at the hotel's restaurants as per prerequisite. They also need to make sure that the banquet rooms have ample and appropriate furnishings. Stewards also need to make sure that the food for room service is arranged rapidly and orders are served speedily and precisely.
Cabin Crew:In this job profile, one joins the aviation industry and is answerable to make sure the security of passengers on board an aircraft. Not just this, the cabin Crew has a huge responsibility to treat the entire onboard guest with the suitable refreshments as well.