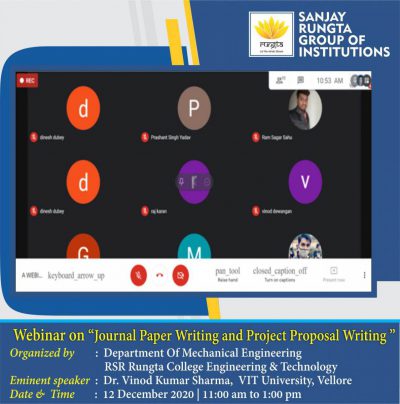 Webinar on Journal Paper Writing and Project Proposal Writing
Dr. Vinod kumar Sharma Professor, VIT University, Vellore, Tamil Nadu, was the resource person of the webinar. He gave deep insight of research paper writing method, its various sections, publication procedure and plagiarism. He also described the project proposal writing and other important aspects associated with it. A primary goal of any research paper is to communicate the outcome of that research. While the research project might address several research questions, a paper, ideally, focuses on only one research question; this is the objective of the paper and must be expressed explicitly. The question should have a narrow focus rather than one covering too many aspects. Publishing is an inherent part of research; if research has not been published, it has not been completed. Allocation of research funds, academic appointments and promotion exercises depend on the quantity and quality of publications of the individual researcher.
The lecture was attended by faculty members, UG and PG students of different colleges. Students have taken keen interest in webinar and participated actively and enthusiastically.
Students have shown inquisitiveness and curiosity to become researcher and start research related to their fields for benefit of the society. Principal Dr. S. V. Deshmukh , Dean Academics Dr. Lokesh Singh , Head of Department Prof. Dinesh Dubey, along with faculty members and a large number of students attended the webinar. Chairman of the Group Mr Sanjay Rungta congratulated the participants for the successful conduction of the webinar.