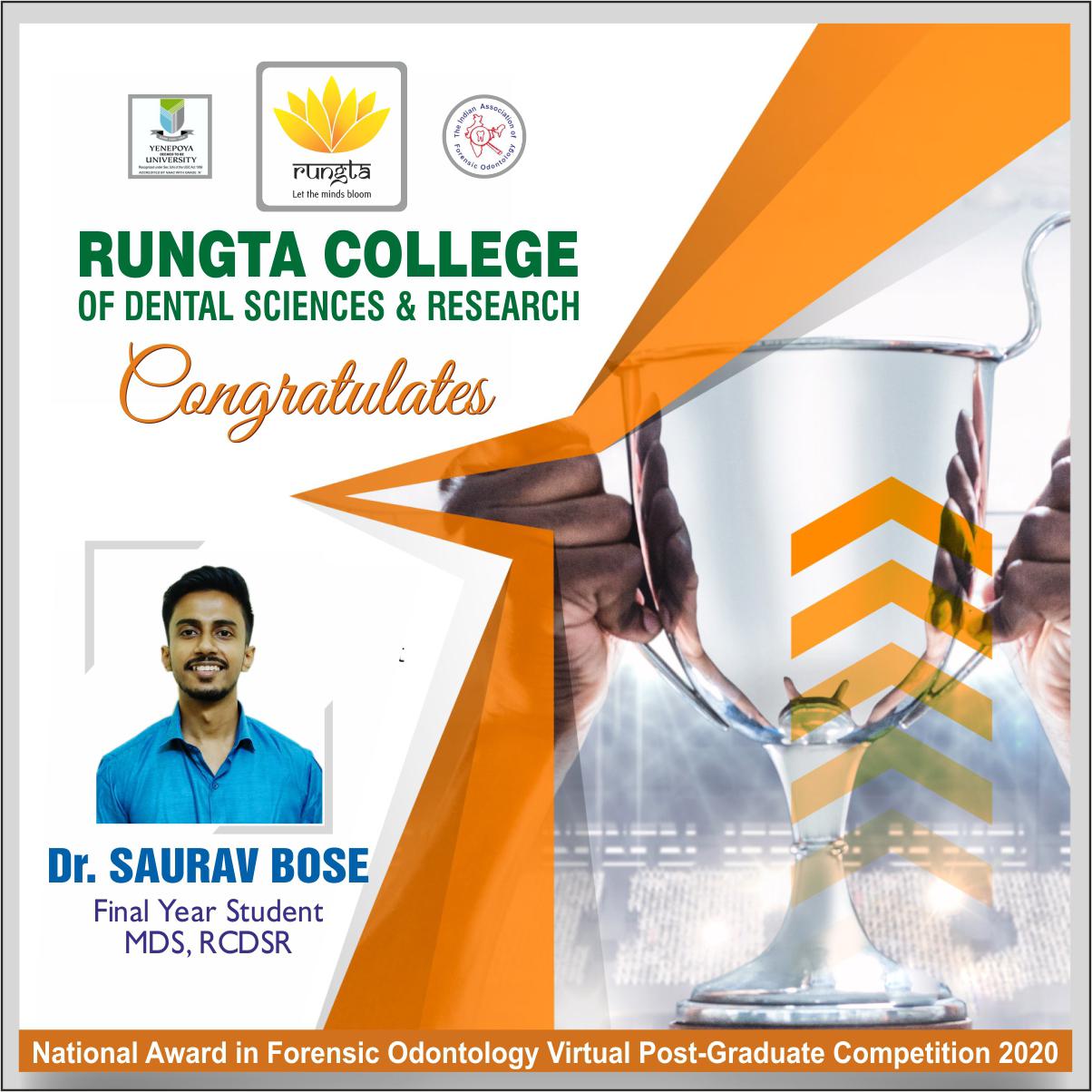 Rungta Dental College student Dr. Sourav Bose bags National Award
Dr, Sourav Bose, Final year Student from Department of Oral Medicine and Radiology, Rungta College of Dental Sciences and Research Bhilai, under the aegis of Sanjay Rungta group of Institutions bagged National Award in Forensic Odontology Virtual Post-Graduate Competition 2020 organized by Indian Association of Forensic Odontology (IAFO) in association with Centre of Forensic Odontology, Yenepoya Dental College, Mangalore.
Dr Sourav Bose, S/o Mr. Shyamal Bose & Mrs. Chaitali Bose, presented his original research study and his work was highly appreciated by the judges and the jury members. He bagged the 1st prize for his research. His research poster was on the topic "Estimation of age by mental foramen using CBCT". Dr Sourav Bose carried out his research under the guidance of Dr.Jaideep Sur (Professor & HOD), Dr. Fatima Khan (Associate Professor) and Dr. Deepalaxmi Dewangan (Reader). Dr. Jaideep Sur highlighted that the research can be beneficial in identification of unclaimed and decomposed dead bodies with ease along with their gender also.
The Chairman, Mr. Sanjay Rungta, College Dean Dr Sudhir Pawar and faculties of the College congratulated Dr. Bose for his outstanding achievement and wished great success in his future endeavors. Mr.Rungta assured all the students that he would extend maximum support and facilities to promote research studies at the college.