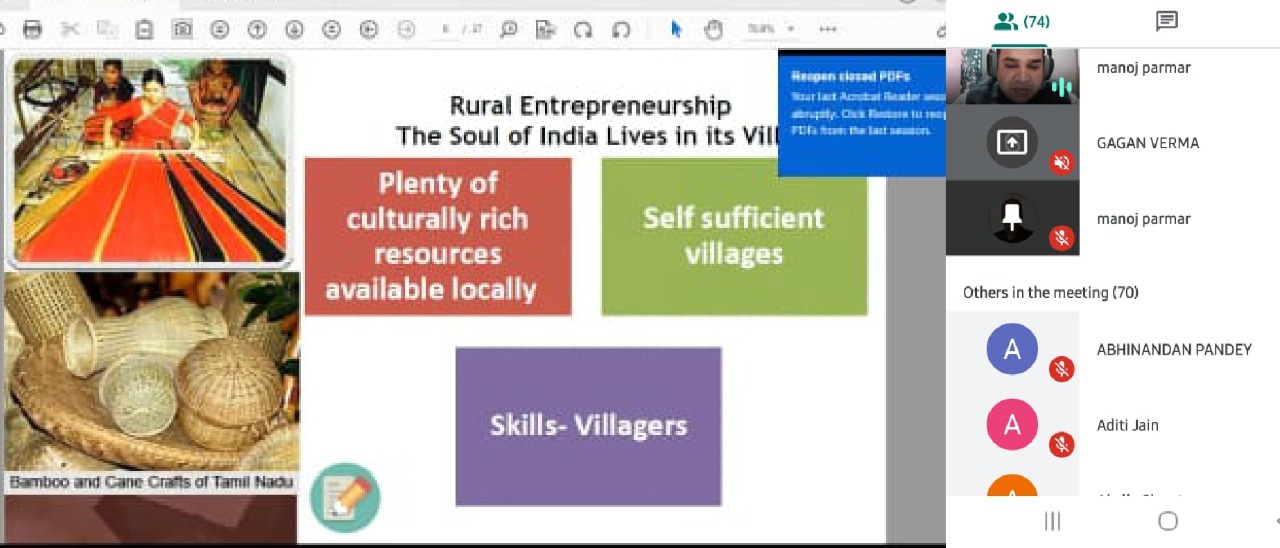 ONLINE WORKSHOP BY MGNCRE, DEPARTMENT OF HIGHER EDUCATION (MINISTRY OF EDUCATION) GOVERNMENT OF INDIA, HELD AT SANJAY RUNGTA GROUP.
A day long workshop on "Rural Entrepreneurship Development Cell" was organized in Sanjay Rungta Group of Institutions, Bhilai campus by "Mahatma Gandhi National Council of Rural Education," Government of India.
Entrepreneurship has always been a buzzword in metropolitan cities. Multiple initiatives have been taken by the government to improve startup eco-system in Chhattisgarh. Considering the fact, Rungta College of Science and Technology, Durg under the aegis of Sanjay Rungta Group of Institutions has been active in bringing the culture of rural innovation and entrepreneurship in the state. Institute has also tied up with MGNCRE, Govt. of India for better result.
In order to fulfill the promise RCST has come up with "RURAL ENTREPRENEURSHIP DEVELOPMENT" workshop .
Mr. Manoj Singh Parmar, MGNCRE, Govt. of India was the resource person of the workshop .The workshop was attended by faculty members and students of BBA course.
The resource person Mr. Manoj Singh Parmar explained in details the concept of entrepreneurship through case studies to the students. He emphasized on the process of gathering resources and building prototypes, which are easily available and under- utilized. He has explained with details the utilization of cow-dung as resource that can be converted to sellable useful material.Students have taken keen interest in the workshop and participated actively and enthusiastically. Students have shown inquisitiveness and curiosity to become entrepreneur and start rural enterprises in near future.
Group Chairman Sanjay Rungta has showered his blessings to the students on this occasion.Principal Dr. Tripri Agrawal Jain, Dr. Preeti Naveen Yadav, faculty members and a large number of more than hundred students attended the workshop.