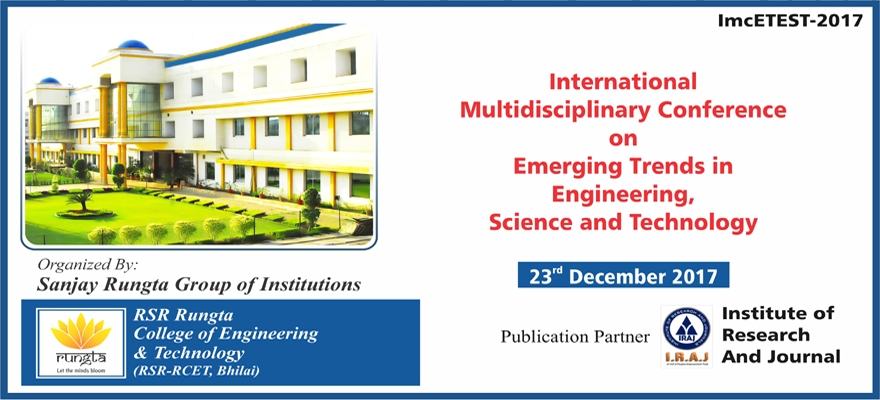 ImcETEST-2017
International Multidisciplinary Conference on Emerging Trends in Engineering, Science and Technology

Organized by:Department of Mechanical Engineering
RSR RUNGTA College of Engineering & TechnologyKohka, Kurud, Bhilai (C.G.)
Sponsored by:Sanjay Rungta Group of Institutions
Publication Partner:Institute of  Research And Journal

ImcETEST-23 December 2017


OBJECTIVES OF THE CONFERENCE
The aim of (ImcETEST-2017) is to provide a platform to the researchers from different parts of the country as well as abroad to discuss in Multidisciplinary areas. The conference will focus on the development of the new techniques along with their application. The main objective of the conference is to discuss many recent significant developments and to identify important problems and new research directions in different areas of Engineering and Sciences.

COLLEGE PROFILE
The steel city of Bhilai is now emerging as a seat of learning with many colleges offering professional courses being established here. RSR Rungta College of Engineering and Technology (RSR-RCET) is all set to provide the most essential resource for every industry, the professionally trained engineers. It is located in the serene environs in the sprawling Rungta Educational Campus in Bhilai Chhattisgarh.
A renowned team of Architects have designed the campus layout after studying the natural topography, weather conditions and so on. The splendid avenue plantations, imposing buildings and sprawling playgrounds and the greenery in the campus make RSR-RCET as one of the best engineering college in Chhattisgarh. The future plans include upgrading the college to include other disciplines in engineering, post graduation programs in computer applications and management studies.

TOPICS TO BE COVERED
• Engineering and Environmental Sciences.
• Mathematics, Physics and Computer Sciences
• Management, Economics and Business Sciences.
• Dental Science, Agriculture, Veterinary and Life Sciences
• Arts, Education and English Studies
CALL FOR PAPERS
Original unpublished papers are invited for presentation in the Conference. All selected and peer reviewed papers will be published in the UGC Approved journals/Thomason Reuter journal. The papers for the Conference should preferably be typed in MS–Word. Proceedings of the conference will be published in ERAJ. The abstract of the paper may kindly be sent to Convener by 11th December 2017, on our Email: imcetest2017@rungtacolleges.com
Links:-
HOSPITALITY
Suitable boarding and lodging arrangements will be made on request for the outside participants. You are requested to inform in advance about your requirements by 15th December 2017. Participants will be provided lunch and refreshments on each day of the conference.
IMPORTANT DATES

Last date of submission of Abstract/Full Length Paper

11th
 December 2017


Notification of Acceptance

15th
December 2017


Last date of registration

20th
December  2017


Last date of submission of Camera Ready Copy

21st
December  2017


REGISTRATION FEES

Research scholars/ Students/ Faculty Members

: Rs
500/-


Industry Participants

: Rs.
600/-


Participants with accommodation

: Rs
1000/-

BANK DETAILS
Bank Names- HDFC Bank
Bank Details-
Hdfc Bank Ltd
giriraj Building, Station Road,
Opp Dhillon Nursing Home
Account No-50100167884612
IFSC Code- HDFC0000915
MICR Code-491240002

Committee Members
Chief Patron
Shri. Sanjay Rungta,
Chairman, Sanjay Rungta Group of Institutions
Patron
Shri. Saket Rungta, Director,
Sanjay Rungta Group of Institutions
Conference Chair
Dr. P.S Bokare, Principal, RSR-RCET
Organizing Secretary
Dr. Lokesh Singh
Assistant Professor, Department of Mechanical Engineering
Steering Committee
Mohd. Shajid Ansari,
(Dean-Administration)
Mr. R. C. Singh
HOD (Civil)
Mr. K. L. Motghare
Assoc. Prof. (Civil)
Mr. Somesh Dewangan
Asst. Prof. (CSE)
Ms. Rinkey Sahu
HOD (Mechanical)
Mr. Sandeep Somkuwar
HOD (EEE)
Dr. Shahid A. Siddqui
HOD (Basic Science & Humanities)
Dr. Ashish Sharma
Assoc. Prof. (Basic Science & Humanities)
Co-Convener
Mr. Jyotir Moy Chatterjee
Asst. Prof. (CSE)
Mr. Prabhat Giri
Asst. Prof. (Mechanical)
Organizing Committee
Mr. Arif Ansari
Asst. Prof. (Mechanical)
Mr. Anil Kumar
Asst. Prof. (Civil)
Mr. Swapnil Sinha
Asst. Prof. (ET & T)
Mr. Sridev Tamrakar
Asst. Prof. (Mechanical)
International Advisory Committee
1. Prof. Goodarz Ahmadi
Professor
Mechanical and Aeronautical Engineering
Clarkson University,USA
Associated with: National Science Foundation
Department of Energy, NASA,
Corning, IBM, Xerox,
2. Hsien-Chen, Ko
Postdoctoral Associate,
Institute of Physics, Academia Sinica
Surface science in air and liquid environment develop novel AFM system
Taipei, Taiwan
3. Dr. Buchari Lapau
Professor, Pekanbaru Hang Tuah Institute of Health (STIKes HTP),
Riau, Indonesia
4. Prof. Dr. M. Azram
Department of Science in Engineering,
IIUM, Kuala Lumpur,Malaysia
Ph.D:University of Idaho, U.S.A.
5. Dr. Salama Abouelyazeed Ouf
Professor of Microbiology
Botany Department, Faculty of Science, University of Cairo, Giza 12613, Egypt
Formerly: Department of Biology, Faculty of Science, Taibah University,
Almadinah Almunawwarah, Kingdom of Saudi Arabia
6. Dr. Md. Al-Amin Bhuiyan
Associate Professor
Dept. of Computer Engineering
King Faisal University
Al Ahssa 31982, Saudi Arabia.
7. Thandayuthapani
Master of Process Safety and Loss Prevention, 2014
University Putra Malaysia
8. Dr.Sutthathip Kamthornphiphatthanakul
Mechanical and Energy Engineering Consultant,
School of Energy, Environment and Materials at King Mongkut's University of
Technology Thonburi, Thailand.
9. Dr. R. A. SAVANUR
Professor
Dept. of Mech. Enggineering
BLDEA's CET, BIJAPUR
Ph.D (Aeroelasticity) NAL. Bangalore
M.Tech. (Design) I.I.T. KANPUR
10. Prof. N. Srivastav
Professor
Dept. Of Elex. and Telecommunication,
B, V University,India
Editorial Board:
1. Ms. Rinkey Sahu
Asst. Prof. (Mechanical Engineering)
2. Mr. Novel Sahu
Asst. Prof. (Mechanical Engineering)
3. Mr. Rupendra Marre
Asst. Prof. (Mechanical Engineering)
4. Mr. R. C. Singh
Asst. Prof. (Civil Engineering)
5. Mr. K. L. Motghare
Assoc. Prof. (Civil Engineering)
6. Ms. Namrata Verma
Asst. Prof. (Civil Engineering)
7. Mr. Sandeep Somkuwar
Asst. Prof. (Electrical & Electronics Engineering)
8. Mr. Ashutosh Mishra
Asst. Prof. (Electrical & Electronics Engineering)
9. Ms. Seema Mishra
Asst. Prof. (Electrical & Electronics Engineering)
10. Mr. Somesh Dewangan
Asst. Prof. (Computer Science & Engineering)
11. Mohd. Shajid Ansari
Dean-Administration
12. Mr. Jyotir Moy Chatterjee
Asst. Prof. (Computer Science & Engineering)
13. Dr. Shahid A. Siddiqui
Assoc. Prof. (Basic Science & Humanities)
14. Dr. Ashish Sharma
Assoc. Prof. (Basic Science & Humanities)
15. Dr. Neeta Pandey
Asst. Prof. (Basic Science & Humanities)
Student Volunteers:
1. Ritesh Kumar Ram – 7000875921
2. Pintu Sahu – 9770298074
3. Manish Sahu – 799542798
CONTACT DETAILS
| | |
| --- | --- |
| Dr. Lokesh Singh (Organizing Secretary) | +91-9229344464 |
| Mr. Jyotir Moy Chatterjee (Co-convener) | +91-9941638945 |
| Mr. Prabhat Giri  (Co-convener) | +91-7999150838 |