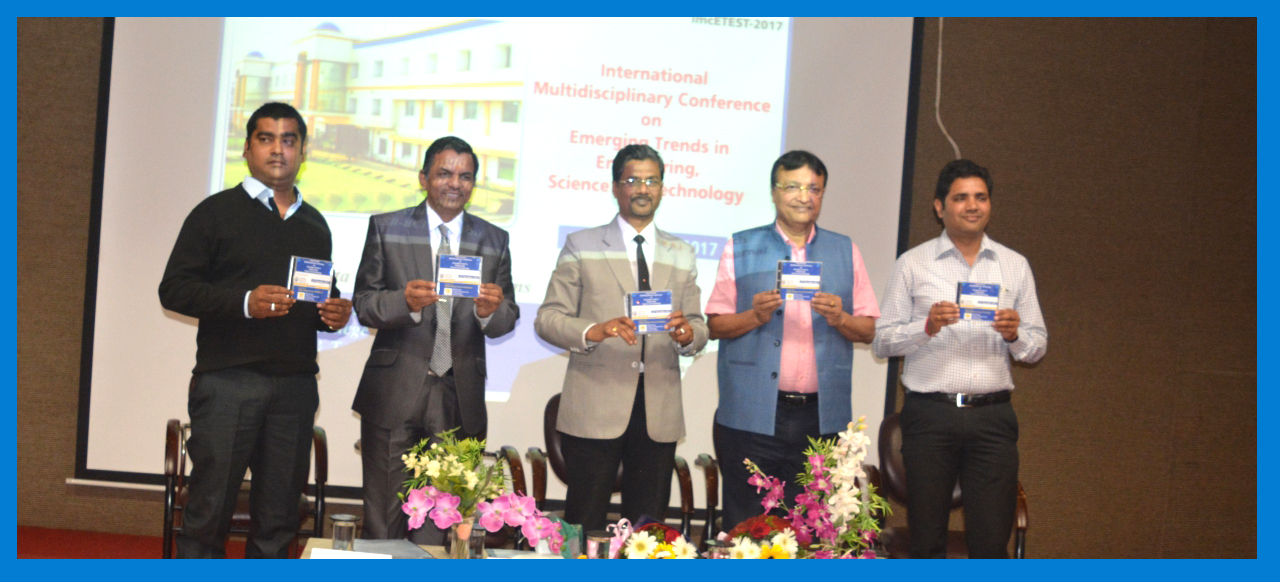 imcETEST-2017(An International Coference)
Sanjay Rungta Group of Institutions had organized International Multidisciplinary Conference on Emerging Trends in Engineering, Sciences and Technology (ImcETEST 2017) in RSR-Rungta College of Engineering & Technology at Bhilai Campus, Kohka-Kurud Road on 23rd December 2017.The aim of (ImcETEST-2017) is to provide a platform to the researchers from different parts of the country as well as abroad to discuss in Multidisciplinary areas. The conference focused on the development of new techniques along with their applications. The main objective of the conference is to discuss many recent significant developments and to identify important problems and new research directions in different areas of Engineering and Sciences.Original unpublished papers were invited for presentation in the Conference.
The topics covered were
Engineering and Environmental Sciences
Mathematics, Physics and Computer Sciences
Management, Economics and Business Sciences
Dental Science. Agriculture. Veterinary and Life Sciences
Arts, Education and English Studies.
All selected and peer reviewed papers will be published in the UGC Approved journals/Thomson Reuters journal. Publication Partner of the event is Institute Of Research And Journals Bhubaneswar- Odisha.
International Advisory Committee
1.Goodarz Ahmadi, Professor Department of Mechanical and Aeronautical Engineering, Clarkson University USA.
2.Prof. Hsien-Chen,Ko Post doctoral Associate Institute of Physics. Academia Sinica. Surface science in air and liquid environment develop novel AFM system,Taipei, Taiwan.
3.Prof. Dr. Buchari Lapau Professor, Pekanbaru, Hang Tuah Institute of Health(STIKes HIP), Riau. Indonesia.
4.Prof. Dr. M.Azram, Department of Science in Engineering,IIUM. Kuala Lumpur, Malaysia, Ph.D, University of Idaho, U.S.A.
5.Dr. Salama Abouel Yazeed Out, Professor of Microbiology, Botany Department. Faculty of Science. University of Cairo. Giza 12613. Egypt Formerly: Department of Biology. Faculty of Science, Taibah University. Al Madinah Al Munawwarah.Kingdom of Saudi Arabia.
6.Dr. MD. Al-Amin Bhuiyan, Associate Professor, Dept. of Computer Engineering, King Faisal University, Al Ahsa 31982, Saudi Arabia.
7.Thandayuthapani, Master of Process Safety and Loss Prevention.2014, University Putra Malaysia.
The chief patron of the event was Mr. Sanjay Rungta Chairman, Rungta Group of Institutions.Associate patrons were Mr. Saket Rungta, Director, Rungta Group of Institutions, Dr. P. S. Bokare Principal RSR-RCET, Bhilai (C.G.), Dr. Lokesh Singh Asst. Professor Department of Mechanical Engineering. Mohd. Shajid Ansari (Dean-Administration), Mr. R.C. Singh HOD Mr. K.L. Motghare Asst Prof. Civil, Mr. Somesh Dewangan Asst. Prof. (CS), Mrs. Rinky Sahu HOD (Mech), Mr. Sandeep Somkuwar HOD (EEE).