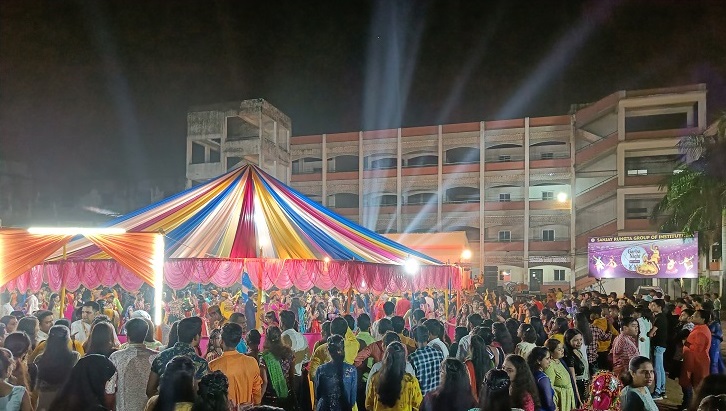 Garba night held with fervour at Sanjay Rungta Group of Institutions
On the holy occasion of Navratri, Sanjay Rungta Group of Institutions reverberated to pulsating garba and dandiya raas beats and spectacular Navaratri events. The festivities usher in grand celebrations after the pandemic. The renewed energy is palpable this year.
Preparations for Navratri began much earlier at SRGI with business as usual during the day and dance sessions later on. For this annual event, the crowd was at a feverish pitch.
Garba is the best thing about Navratri, exclaim students. The trend has changed and folk music has been replaced by orchestra and DJ music. People from different communities are also participating and, the scale has only become bigger. The euphoria when around 2,000 people dance at a time on a huge garba stage is incredible.
The night began at 06:00 pm with the worshipping of Goddess Durga. A live performance by one of the best music bands in the state "Saif and Sohel" made it all the more special for the students with his team. The LED speakers blasted the first tunes for the night, commanding the students to forget everything about their monotonous lives. The lights were dimmed to ensure a thrilling atmosphere where everyone danced to the rhythmic dandiya beats. On the trend changing from folk music to rhythmic beats, youngsters loved to dance energetically to DJ beats. The fun moments with friends become a good memory. Vanshika became garba queen and Dipanshu became garba king while Tushar and Rajnandini were awarded best dandiya player titles.
Chairman of SRGI Shri. Sanjay Rungta and Director Shri. Saket Rungta wished everybody a very happy Navratri.