Another Achievement by Students of RSRRCET
​
A film made by students of RSR- Rungta College of Engineering run under aegis of Sanjay Rungta Group of Institutions (SRGI) has been selected by UGC. The film is on topic of anti-ragging . Chhattisgarh Swami Vivekanand Technical University has forwarded the film further to New Delhi.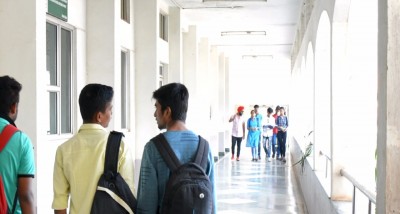 The films depicts harrowing mental and physical effects of ragging on new comer students in a college. A junior student when raises his voice against ragging gets targeted brutally by senior students, finally under depression such students take extreme steps. Students have given a very effective message to society about ragging through this film. The film was written and directed by B.E Computer Science IIIrd semester students Jasleen Bhatia and Raman Singh Rajput. Students of Ist and IIIrd semester namely HImanshu Jaiswal, Vivek Singh, Ashish Sharma, Shubham, Priyanshu Goswami, Mayank Verma, Jasleen Bhatia, Gaurav Agrawal, Nikhil Jaiswal, Nishi Jha, Shilpi Jaiswal and Adarsh Shrivastav acted brilliantly in the film. The film was shot in Sanjay Rungta Group Campus at Kohka-Kurud Road Bhilai. Getting chosen at university level is a matter of pride and Chairman Shri Sanjay Rungta, Director Shri Saket Rungta, Principal Dr.P.S.Bokare and others have congratulated the students for this wonderful creative achievement.